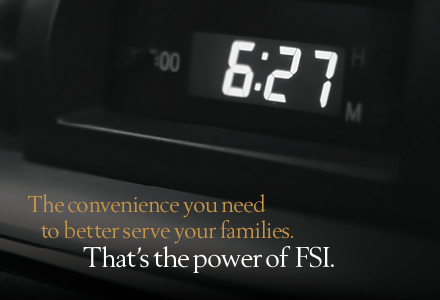 The convenience you need to better serve your families.
An Accurate, All-Encompassing Database of Your Records
With FSI, you get access to a complete picture of your trust and sales programs in one, easy-to-manage location where you can:
View account information from a variety of perspectives: consolidated at the firm or trust level, down to each preneed contract, or even further to each contract's line items.
Monitor the market value of your trust account.
Upload new contracts and export contract data into programs such as Microsoft Excel for analysis, such as sales by zip code.
In addition, FSI provides all clients with a monthly, easy-to-understand earnings report that summarizes all of this information for you.
Contract Processing and Allocation of Funds
When we say that once you make a sale, we take care of the rest...we mean it. Once you finalize an agreement, your clients can make contract payments to FSI directly by using multiple payment options, both electronically or with coupon books.
From there, FSI processes all payments and trust deposits or withdrawals timely and correctly, allocating earnings and expenses down to each line item on every contract on a monthly basis.
With FSI, your preneed or perpetual care trust account records are organized, efficient, and in compliance.